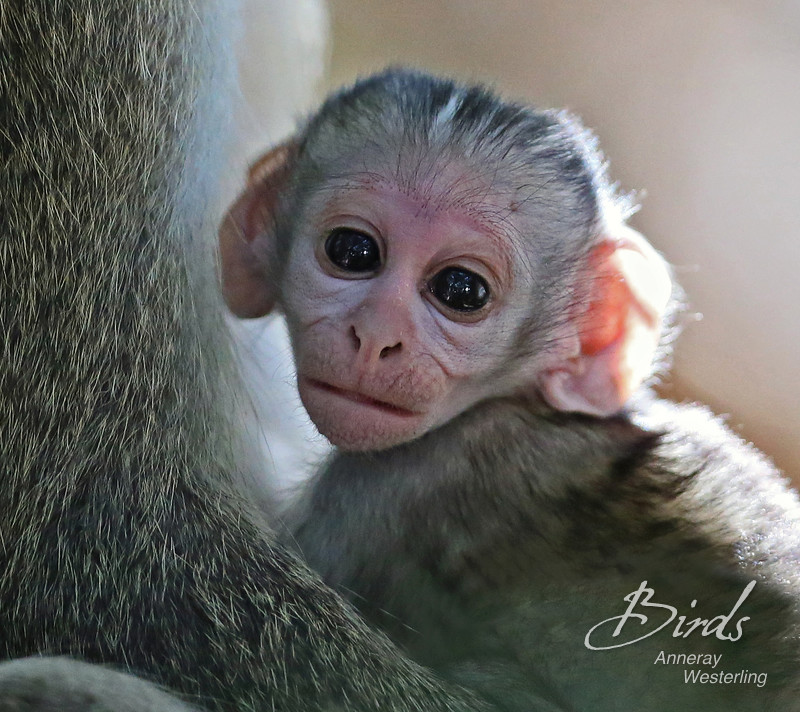 Vervet Monkey (Chlorocebus pygerythrus)
GAMBIA
Gambia is a small and poor country in West Africa surrounded by Senegal on all sides except on the Atlantic Coast. Local population is friendly and, for the most part, very helpful.The Gambia River flows through Gambia´s centre and empties itself in the Atlantic Ocean. The rest of the country lies divides along the north and the south banks of the River Gambia.
The banks of the Gambia River are marshy and there are mangrove forests. Mangroves grow with their roots in the water and go against erosian.
The landscape of Gambia is flat and consists of savannah, grass-landscapes with some shrubs and trees. The south of Gambia consists of fertile forests including citrus. It is situated close to the narrow transitional zone between semi-dessert and tropical rain forest.
For birdwatchers Gambia is an ideal country. The photos on this site are made during trips to:
Marakissa River-camp (www.marakissarivercampthegambia.nl) that lies along the River Allahein and where the owners Joop Hermse and his Gambian wife Adama will receive you warmly. Abuko ricefields and Abuko Nature Reserve. Brufut Woods, Kotu Creek, Fajara Golfcourse and in the garden and the surroundings of Bakotu hotel - Kotu beach (www.bakotuhotel.com) where we had a wonderful time.
Wishing you many viewing pleasure!
Anneray Westerling
During my second trip to Gambia, in 2016, I stayed again in Bakotu Hotel and I visited also the still unknown places to me, Tanjeh, Tujereng and Faraba. My guide was Yankuba Tamba, a tranquil, professional birdguide who had a good knowledge of the local birds and moreover found still even more using his binoculars. His mobile-number in The Gambia is : (00)22 09954017.

In November 2016 I went back again to have more chances to see the birds in summerplumage and to search for new bird species. With Yankuba I went four days inland, we crossed the Gambia river at Yeli Tenda to end up at Janjanbureh. Along the way several stops during the day but unfortunately mostly hard light and very high temperatures, with the result that most of the photos are not sharp, not as I hoped anyway.

Moses and Moro, two bird guides with base at the Kotu bridge, also have guided me during trips around Kotu, Faraba and Brufut.